Roberto Vignoli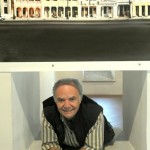 Roberto Vignoli was born in 1958 in Rome, Italy, where he lives and works. Began to shot photos for reportage in Europe and Africa when he was a teen-ager. He has made exhibitions in public Museum and private galleries in Italy, France, Argentina, Cuba, Turkey, Usa, Australia and Hungary. He has  published articles, photos and short stories for "Il Messaggero", "L'Unità",  "Il Tirreno"," Informazioni Editoriali", "Qui giovani", "Penthouse", "L'Espresso", "Successo", "NoiDonne", "Italiani", "L'Informatore Librario",  "Immaginazione", "Presenza Taurisanese","La Ragione". He has been working for L'Espresso from 1986 to 2012, the last 10 years in the Photo Office. His pictures has been represented by the photo agencies  Image Bank, MaxPPP, Granata Press, AGF, Grazia Neri  and Luz Photo Agency of Milan (Italy).
He has been teacher of Architectural Photography Centro Sperimemntale di Fotografia of Rome from 2019 to 2022.
He has published novels, Un lampadario nell'anello di fumo, Bastogi 1992, Il soffio sulla spalla, Bastogi 2006; short stories, Se un altro fosse me, Bastogi, 2008; 5 fotoromanzi d'amore sfrenato, Calliope, 2011; photos book with the poems of Claudio Damiani, Fondi, percorsi d'acqua, Associazione Libero de Libero, 2016; poems,  L'inverno sono gli altri, Edizioni Ensemble 2016, and translation from French language, Storia dell'etnologia, Lucarini, 1987.
His photographs are inspired by cultural anthropology, architecture and environment.
•••
EDUCATION
High  School – Aviation College in Rome / University La Sapienza in Rome – Anthropology Department  / Certificate of reforestation chief plant / Certificate of Central School of London advanced level of English language / Certificate of Roberto Rocchi workshop of photography.
•••
PERMANENT EXHIBITIONS
Malecon,  Museo Bilotti Ruggi d'Aragona, Cosenza (Italy)
Sioux Portraits Panorama, Buechel Lakota Memorial Museum, St. Francis (South Dakota, Usa)
Aboriginal Portraits Panorama, Redfern Community Centre, Sydney (Australia)
Ci basta una capanna, Civico Zero, Rome (Italy)
SELECTED SOLO EXHIBITIONS
Chairs and Bikes
2004 – Rome (Italy), IF (Ruote e foglie, Sedie, Addio)
4 Artists in Rome
2006 – Rome (Italy), Salon Privé Gallery curated by  Sergio Rispoli
2006 – Rome (Italy), Arci. Curated by Mario Casale
2006 – Piacenza (Italy) , Fahrenheit
2007 – Rome (Italy) , Mondo Bizzarro Gallery
2008 – Habana (Cuba),  Galeria Carmen Montilla
2008 – Buenos Aires (Argentina),  Inboccalupo Gallery, curated by Massimo Scaringella
Divertissement a pedali
2006 – Rome (Italy), IF
2018 – Rome (Italy), Cyclamine Arte Roma Biciclette, curated by Francesca Longo
Fiori
2006 – Rome (Italy), Bibliothe curated by  Francesca Pietracci
Malecon (full size: 18,79×0,60 meters)
2009  –  Rome (Italy), MLAC, curated by Giorgia Calò
2010 – Marseille (France), Chambre de Commerce de Marseille, under the patronage of Jack Lang
Tubes and Bikes
2012 – Rome (Italy) Brancaleone Social Centre (Ruote e foglie, Sedie, fuochi, Bike's spirit)
Iguazù
2012 – Rome (Italy) Parioli fotografia festival,  curated by Gilberto Maltinti
2013 – Rome (Italy), Shameless San Lorenzo
Doppia Natura. Sulle tracce di Man Ray
2013  –  Rome (Italy) Auditorium, Parco della Musica, Perpiacere  ("4 artists in Rome" and "Iguazù"), curated by Laura Scaringella
Panoramic Vision
2014 – Rome (Italy) Acta International Gallery, (Malecon, Malecon b/n, Piazza di Spagna- Il cielo di via Condotti, Melting Marseille) curated by Francesca Pietracci,
Little Big Panoramas
2015 –  Inglewood, Los Angeles, California (Usa) Lucas Reiner Studio, Philadelphia, Pennsylvania (Usa), TandM: Arts Studio, (Malecon, Piazza di Spagna- Il cielo di via Condotti, Melting Marseille, Aboriginal portraits panorama Project)
Aboriginal and Sioux Panoramas
2015 – Rome (Italy), Casa delle Letterature, curated by Maria Ida Gaeta
2015 – St. Francis, South Dakota (Usa), Buechel Memorial Lakota Museum
2015 – Sydney (Australia), Redfern Community Centre
Fighters
2016/2017 – Rome (Italy), Museo delle Civiltà – Museo Nazionale Preistorico Etnografico "L. Pigorini" (Indian Roots- Ucwalmicw and Nqatqua, Malecon full size, Sioux portraits panorama)
Mashing Up Farfa
2018 – Nazzano (Rome, Italy), Riserva Naturale Nazzano Tevere Farfa
Memento Park
2018 – Roma (Italia), Arciarcobaleno, curated by Mario Casale, presented by Ada De Pirro e Francesca Pietracci
Autoritratto
2018 – Macro Museum, Via Nizza, Rome (Italy) 
Orlando, Virginia e me
2018 – Macro Museum, Via Nizza, Rome (Italy)
Ci basta una capanna
2019 – Civicozero, Rome (Italy)
Punti di Vista
2019 – Iuris Hub, Rome (Italy), curated by Luciana Tozzi
Vedute  e Incanti
2021 – Museo del fiume, Nazzano (Rome, Italy)
Solstizio
2022 – Kou Gallery – Rome (Italy), curated by Massimo Scaringella
Gens d'ici et d'aillers Marsiglia
2022 –  Libraire La bohème, Marseille (France)
Earth Day
2023 – Centro Congressi La Nuvola, Rome (taly)
Light Poems
2023 –  Rome (Italy), Borghini Arte Contemporanea
SELECTED GROUP EXHIBITIONS
2001 – Rome, Florence, Milan, Venice, Bologna (Italy) Aids  for Emergency (Lisbona Contrasto, Sedie Contrasto),
2005 – Rome (Italy), Salon Privée Gallery White Spirit, curated by Sergio Rispoli
2006 – Fiumicino ( Italy), UGC Cinecité, Interior Rails (Mostra Europa), curated by Massimo Scaringella
2006 –  Viterbo (Italy),White Spirtit,  La Fontaine Gallery
2007 – Viterbo  (Italy) Palazzo Orsini, Bomarzo, 4 artists in Rome, curated by Massimo Scaringella
2007 – Buenos Aires (Argentina), Expotrastiendas, 4 artists in Rome, curated by Massimo Scaringella
2007 – Ostuni e Mesagne (Italy), Battiti, curated by Francesca Pietracci
2007 – Istanbul (Turkey) Istanbul Fair, Segni di Confine, curated by Massimo Scaringella
2007 – Istanbul (Turkey) New Ice Palace, Segni di Confine, curated by Massimo Scaringella
2008 – Rome (Italy) , Mitreo di Corviale, Segni di Confine, curated by Massimo Scaringella
2008 –  Florence (Italy), Artur – O, Fiori, curated by Massimo Scaringella
2009 – Rome (Italy) , Mitreo di Corviale, Dinamiche della luce , curated by Massimo Scaringella
2009 – Cisternino (Brindisi, Italy) Malecon video, curated by Francesca Pietracci
2009 – Rome (Italy) , Mitreo di Corviale, Presenza e Ricordo curated by Massimo Scaringella
2009 – Florence (Italy), Festival della creatività, Città Future City, curated by Massimo Scaringella
2009 – Habana (Cuba), Aeqatorlab, curated by Simonetta Lux
2010 – Rome (Italy), Rising Love, The day before tomorrow, curated by Francesca Pietracci
2010/2011 – Rome (Italy), Diffusione Cultura, Iguazù, curated by Francesca Pietracci
2010/2011 – Nantes (France) Cosmopolis, Malecon, curated by Carole Reux
2011 – Frascati (Rome, Italy),Scuderie Aldobrandini,  Quadrato Nomade Preview, curated by Donatella Pinocci
2011 – Rome (Italy), Istituto superiore antincendi, Peace Island, curated by Francesca Pietracci
2012 – Rome (Italy), Palazzo delle Esposizioni, Quadrato Nomade, curated by Donatella Pinocci
2012 – Rome (Italy), Spazio 88, Senza Titolo, curated by Federico Simonelli
2012/2013 Rome (Italy), Sala Umberto, Between, curated by Donatella Pinocci
2013 – Rome (Italy) Palazzo delle Esposizioni, Tetti, curated by Francesca Pietracci
2013 – Budapest (Hungary) Casa del dialogo, Iguazù, curated by Francesca Pietracci
2013 – Budapest (Hungary) Istituto italiano di cultura, Iguazù, curated by Francesca Pietracci
2014 – Santa Fe (New Mexico- Usa) Panoramas, 333 Montezumaarts, curated by Tom Tavelli
2014 – Rome (Italy), Hungarian Academy, curated by Pal Nemeth
2014 – Budapest (Hungary), TAT Contemporary Art Gallery, Tik-Tak, Reflection and Self-reflection, curated by Francesca Pietracci
2017 – Rome (Italy), Hungarian Academy, Streetart, curated by Francesca Pietracci
2017 – Rome (Italy), Temple University, Tiny Biennale, Burden, curated by Susanne Moore
2017 – Rome (Italy), Piomonti Arte Contemporanea, On the Road, Malecon (small size), curated by Pio Monti
2017 – Cisternino (Brindisi, Italy), In difesa delle acque, Iguazu, curated by Francesca Pietracci
2018 –  Rome (Italy),Tibaldi Arte Contemporanea," Il mare nomade dell'Arte", curated by Massimo Scaringella
2019 –  Rome (Italy) Civicozero, Kouma Gnokoya / Dialoghi
2019  – Rome (Italy) Cappella Orsini, Ebbrezza Dionisiaca, curata da Roberto Lucifero
2020 –  Rome (Italy) Luiss, Sede Centrale, Tempo non c'è
2021 –  Rome (Italy) Lotto Tabacchi, Corviale
2022 – Rome (Italy) Bibliothe, Prabha Chaia
2022 – Rome (Italy) Cappella Orsini, Biophilia, curated by Roberto Lucifero
2022 – Tarquinia (Italy) Palazzo Marsi, Multipli Sguardi, curated by Massimo Scaringella
2022 – Rome (Italy) Studio Campo Boario, Monochromacolor!, curated by Alberto D'Amico and Roberta Melasecca
2022 – Rome (Italy) Tevere Art Gallery, Think Diverse, curated by Barbara Lalle and Marco Marassi